FREE Event: Meet the Veterans of the Greatest Generation Who Fought World War II and the Korean War.
Come meet and mingle with over 40 local war Veterans and see an array of vintage aircraft on display at this special event. Free admission, "Open Cockpit" aircraft, and hot dogs & beverages for purchase make this a great family activity.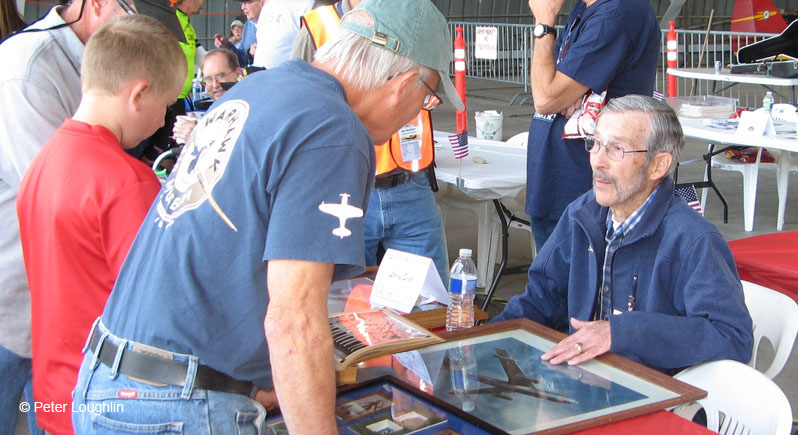 This half-day event takes place Saturday May 19 -- on Armed Forces Day -- and is organized by volunteers at the Pacific Coast Air Museum (PCAM). It honors our Veterans and provides a forum for all to learn about the Veteran's experience. Many of them have already been interviewed for the Library of Congress archives by the PCAM Oral History Team for the benefit of the PCAM Education Program.
Talk With the Heroes of the '40s and '50s
Learn about the events that shaped our world from the men and women who were there.
This day is specially designed for young people to meet with some of America's Greatest Generation, our Veterans of World War II and the Korean War, as we honor their service to our country.
Students and anyone else will be able to speak directly with local Veterans who were pilots, navigators, paratroopers, ship's gunners, bomber gunners, decipher specialists, WAVES, radio operators, and map interpreters.
Some of them flew P-47 Thunderbolts, P-51 Mustangs, B-17 Flying Fortresses, P-38 Lightnings, TBM Avengers, B-24 Liberators, and T-33 Shooting Stars. We are adding more all the time.
Fly in a Classic DC-3: Golden Age Air Tours
The Golden Age Air Tours Douglas DC-3 will be offering scenic air tours during the weekend of May 19 & 20 as part of the "Celebrating the Living Historians" event!
Take a tour in this unique piece of living history that was requisitioned and flown by General Henry 'Hap' Arnold during the war years, and help a WWII Vet get a chance to travel back in time. Two Vets will get a free ride for every eight flight tickets sold. Enjoy a truly memorable flight in this majestic aircraft while helping some of our remaining Greatest Generation celebrate Armed Forces Day in style! This aircraft will be flying to Europe next year to take part in the 75th D-Day anniversary flights to Normandy on June 5th 2019.
Make a reservation at https://www.goldenageairtours.com/tickets/
Lots to Do and See for Free
Speak with Veterans about their WWII and Korean War Experiences

See World War II and Korea memorabilia.

View display aircraft of the era, including some with open cockpits!

"Missing Man" formation fly by, contributed by the Redstars Precision Formation Team

In planning: P-51 Mustang formation fly-by

Educational activities and crafts for the children

Tap your fee to the music of the era: Big Band/Swing

The Sonoma County Calendar Girls will put in an appearance, in clothing from the era

Yodeler Paul Belanger will perform his famous triple yodeling. Paul is a Veteran of Patton's 3rd Army in World War II.

Attractions and schedule are subject to change.
For-Purchase Attractions and Gifts
Fly on a classic DC-3! Golden Age Air Tours is selling tickets in advance and at the event! Reserve now! https://www.goldenageairtours.com/tickets/

Helicopter rides for sale, from Helico Sonoma

Airplane rides for sale, from North Coast Air

LUNCH: Enjoy the famous PCAM hot dog luncheon (including chips and a beverage)

3-D virtual reality simulator flights for sale in the Gift Shop

Souvenirs for sale in our Gift Shop

Raffle tickets for sale - proceeds benefit the Pacific Coast Air Museum
Raffle
We're raffling off some great prizes to benefit the Pacific Coast Air Museum and its educational programs. The Grand Prize is a 30-minute helicopter ride for three people (a $350 value!) offered by Helico Sonoma!
Have Lunch
Our famous hot dog lunches will be available for purchase.
Do You Know a Veteran Who'd Like to Participate?
If you know of a Veteran who served during WWII and/or Korea who would like to participate in this event, please call 707-566-8380, Select Option 1, and leave your name and phone number. You will receive a return call asking for information about the Veteran. Pre-registration is required.
For Your Security
Backpacks, ice chests, dogs, and other animals are not allowed. Only guide dogs and certified companion animals are allowed.
Find Out More
Call our event hotline at 707-566-8380 if you have questions.
See you Saturday May 19!
The Pacific Coast Air Museum looks forward to seeing you on Saturday May 19!
Call the event hotline 707-566-8380 if you have questions.
Founded in 1989, the Pacific Coast Air Museum is a nonprofit 501(c)(3) organization, Tax ID 68-0216262.